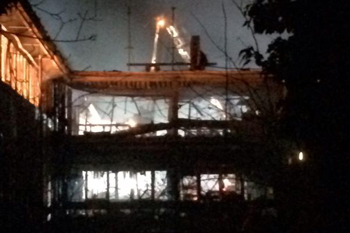 Detectives are understood to be investigating whether an arson attack on South Oxfordshire council was in revenge for a planning application row.
The offices of South Oxfordshire District Council were devastated by fire in the early hours of yesterday morning, with eyewitnesses claiming to have seen a car filled with gas canisters being driven into the building.
Police were called to council offices at 3:24am on Thursday, with a bomb disposal squad later sent onto the site. A total of three fires were reported in the region, all reportedly involving gas canisters.
Thames Valley Police arrested a 47 year old man on suspicion of arson who remains in custody. A source involved in the investigation told the Daily Telegraph that one line of inquiry being pursued was that an individual who had been refused planning permission was undertaking a revenge attack.
Council leader John Cotton said the planning department had 'pretty much disappeared' following the attack.
'We don't know at this stage if it was deliberately targeted,' he added.
South Oxfordshire and Vale of Horse district councils this morning said services including waste collections and leisure centres remained up and running. However residents were urged to only contact the town hall in an emergency.
A business continuity plan has been put in place in a bid to limit the effect on the 'most important' council services.
Supt Andy Boyd, of Thames Valley Police said: 'We are working with the Fire Service and the South Oxfordshire District Council as we investigate these fires and the motivation behind the arson.
'We believe they were not random and would like to reassure the public that they are not believed to be terrorist-related nor do we believe there is any likelihood of further danger to the public at this stage.
'We would like to thank the public for their support and patience while the emergency services carry out our work at the scenes.'
Photo: taken by @NegusIan