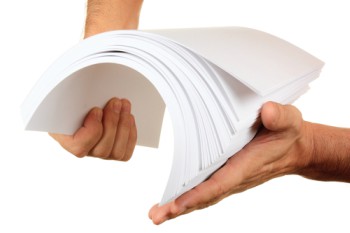 Some councils are paying up to seven times more for paper than other authorities, an investigation by the MP for South Thanet has revealed.
Using a freedom of information request, Craig Mackinlay and the Taxpayers' Alliance found Stratford-on-Avon Council paid £4.39 per ream of 80 grams per square meter (GSM) paper in 2016. This compares to Runnymede Borough Council who only paid just 75p per ream.
The investigation also found there was little correlation between the amount of paper purchased and the prices being paid.
'I think hard-pressed taxpayers will be more than a little concerned to learn that many public sector bodies are not getting value for money from suppliers when purchasing simple, everyday items such as paper,' said Mr Mackinlay.
He added: 'I call on the public sector to look at these figures and consider whether they can spend hard-pressed taxpayers' money more wisely in the future, not just in the purchase of paper, but in respect of all costs and expenses they incur.'
John O'Connell, chief executive of the Taxpayers' Alliance, said: 'Paying less for paper is not a case of cutting corners, but exercising common sense when using taxpayers' money on office essentials. Money saved here could be spent on essential services or left in the pockets of taxpayers.'