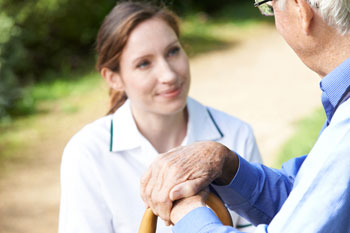 A care workers union has warned of a 'disastrous' staffing black hole in England's social care sector as research shows there are tens of thousands of vacant posts.
Skills for Care, a charity which focuses on the adult social care workforce, estimates that there are 75,600 care vacancies with a vacancy rate for care workers of 8% – more than three times the average for all jobs.
London and the South East are the worst affected regions with 14,000 vacancies apiece. There are almost 10,000 vacancies in the East of England and more than 8,000 in the North West and South West.
Kelly Andrews, a national officer with GMB, the union for care workers, warns this is the result of 'years of neglect'.
'Years of neglect has left our care sector with a disastrous staffing black hole,' she said.
'For years, care has been treated as a Cinderella service – when in reality this is a highly-skilled, vital job that we all rely on.
'It's time that care workers are recognised as the skilled workers that they are – with decent wages, good training opportunities and a clear path to career progressions.
'Without urgent action the problem is going to get worse and worse until the whole system is at risk of collapsing.'
The charity the Health Foundation today called on the Government to invest in preventative services, such as social care, in order to avoid 'storing up significant problems for the future'.