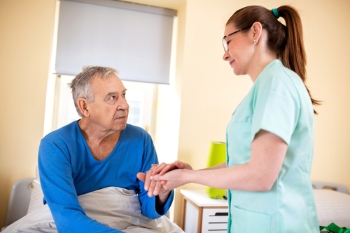 A proposed Government amendment to the cap on social care costs will impact those with modest levels of wealth in the North and the Midlands, a new study shows.
The Government is proposing to change the legislation underlying the new £86,000 cap that people will have to pay towards their own social care costs. If accepted, the amendment means that receipt of means-tested support to pay for care will not count towards the cap.
A joint Institute for Fiscal Studies (IFS) and Health Foundation report, funded by the Health Foundation, has warned that the amendment would impact most strongly those older people with modest levels of wealth, particularly those in the North East, Yorkshire and the Midlands, where wealth tends to be lower.
Those with wealth, including their home, of around £75,000 to £150,000 would face the biggest loss of protection as a result of the amendment. The result is that someone with around £110,000 in assets could lose 78% of their total wealth even after the cap is in place, while someone with £500,000 could use up only 17%.
'The new social care cost cap is important not just for those who end up having large care costs. Given the unpredictability of future care needs, it offers many people peace of mind and an ability to plan,' said David Sturrock, a senior research economist at IFS.
'The Government's proposed amendment would significantly reduce those benefits for those with moderate assets and income. This disproportionately affects those in the North East, Yorkshire & the Humber and the Midlands, given lower house prices and wealth levels in those regions compared to the South of England. This change seems to cut across the Government's plans to "level up" across regions.'
Charles Tallack, assistant director for the REAL Centre at the Health Foundation, said: 'The Government's proposed amendment to the Care Act will, in effect, increase the time it could take for some poorer people to reach the £86,000 cap on care costs.
'So far Parliament has been voting in the dark on this issue, having had insufficient information about its impact and which groups of people would be affected. This independent analysis will help to shed light on this and ensure that as the amendment is further debated and voted on, peers and MPs can fully understand its impacts on people who need care.'