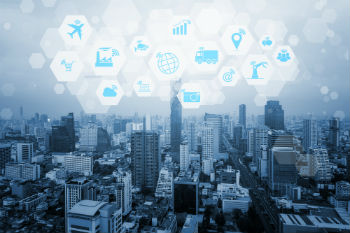 Local authorities have been given expert guidance to help protect their smart cities from cyber attacks.
The National Cyber Security Centre has published a set of principles to help local authorities securely design, manage and build smart cities.
It warns that smart city technology such as parking sensors, traffic lights and sensors to monitor air pollution are potential targets for cyber attacks due to the critical functions they provide and the sensitive data they process.
Dr Ian Levy, technical director at NCSC, said: 'Local authorities are using sensors and intelligent systems to improve our lives and make our cities more efficient and environmentally friendly.
'While these benefits should be embraced, it's important to take steps now to reduce the risk of cyber attacks and their potentially serious impact on these interconnected networks. I urge every individual and organisation establishing a connected place in the UK to consult our newly published cyber security principles.'
The principles advise local authorities on the required cyber security governance and skills, the role of suppliers, risks and how connected places can be designed to protect data.
David Rees, head of local government services at PA Consulting, said: 'The importance of these guidelines should not be lost on service directors and heads of service and remain the preserve of IT directors.
'As frontline services such as adult social care, highways, transportation and environmental services transform through the adoption of new technology, it is crucial that cyber risks are factored in.'