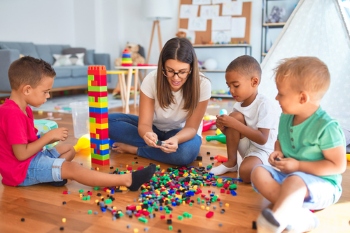 The Government should reduce the amount of regulation governing the provision of childcare in order to reduce the social and economic impact of high childcare costs, a centre-right think tank says.
A typical two-earner family in the UK spends around 30% of its household income on nurseries and childminders – twice as much as in France and three times higher than in Germany or Japan – despite the Government spending £7.1bn annually subsidising childcare.
A new briefing paper from the Centre for Policy Studies (CPS) argues that unaffordable childcare has disastrous social and economic consequences as women are forced by extortionate childcare costs to leave the workforce.
The paper urges the Government to cut what it describes as the 'excessive levels of red tape' around early childcare years and relax child-staff ratios. The think tank argues that by relaxing ratios to French levels, the UK could cut childcare costs significantly without undermining safety.
The CPS also recommended a reassessment of the compulsory nature of the Early Years Foundation Stage, which mandates the equivalent of a full-blown curriculum for children below the age of compulsory education. The Government should consider either scrapping it, making it voluntary, or restricting its scope.
The think tank also called for a relaxation of the regulation on early years childcare. It argues that regulation is responsible for a halving of childminder numbers in the last 20 years from 103,000 in 1996 to 34,800 in 2019.
Elizabeth Dunkley, report author and researcher at the CPS said: 'Even before the cost of living crisis struck, childcare reform was urgently needed. Tackling the cost of childcare will allow the Government to increase families' spending powers and remove significant barriers to women returning to the labour market – two vital ingredients to producing the economic growth the UK desperately needs.
'Failing to implement the changes set out today – which impose no additional cost to the taxpayer – will represent a significant missed opportunity to improve the lives of millions of families across the country.'