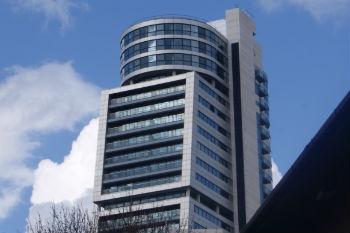 Leeds City Council is to receive £903,000 in compensation for wind danger caused by Yorkshire's tallest skyscraper, Bridgewater Place.
Owners CPPI Bridgewater Place have agreed to reimburse the council for the cost of closing the roads on a frequent basis around the building during high winds.
It will also cover the cost of installing a solution to the wind issues, which have led to a number of incidents including the death of Dr Edward Slaney.
Councillor Richard Lewis, the council's executive member for regeneration, transport and planning, said: 'We did not wait for the owners to act on their responsibilities but continued to put pressure on them while we set about working with leading wind experts to tackle these issues. While doing so we also addressed the junction's safety through installation of barriers and railings, along with closures in times of high winds.
'This agreement means we are now able to recover the costs to council taxpayers of pursuing the solution and protecting the public while the owners got their plans in place.'