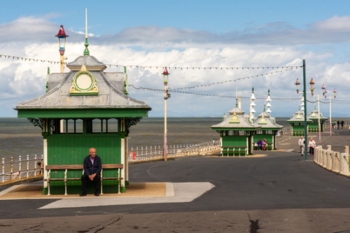 Skegness Town Hall is one of six seaside heritage sites that have been awarded Grade II listed status.
The town hall was built in 1926 as a convalescent home but is now used as council offices.
The other sites include Blackpool's promenade shelters (pictured) and its Middle and Lower Walk colonades, Hythe Pier in Hampshire, an eight-metre-tall stone obelisk in Southend, and a boathouse off the coast of Devon.
Caroline Dinenage, heritage minister, said: 'I am delighted that these six seaside heritage sites have been listed. Our magnificent seaside towns have been must-visit destinations for hundreds of years and many of us have rediscovered just how much they have to offer this summer. It is absolutely right that these sites will be recognised and protected.'
The sites were chosen on the advice of Heritage England. Deborah Mays, head of listing, commented: 'I'm thrilled the significance of our seaside heritage has been recognised with these six new listings, especially as so many of us will be heading to the seaside to enjoy the final few days of summer this bank holiday weekend.'
Listed buildings are considered to be of national importance so benefit from extra legal protection within the planning system.
Photo: Joe Dunckley / Shutterstock.com