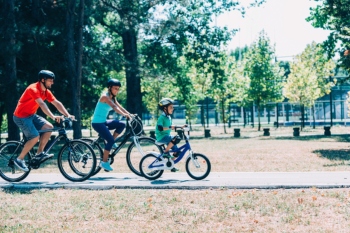 Local authorities will be able to offer bespoke Bikeability Family training sessions to help people feel more confident cycling.
Transport secretary, Grant Shapps, has announced a new £18m fund to deliver cycle training for children and their families.
The funding, which is managed via the Bikeability Trust charity, will provide practical on-road cycle training as a modern day equivalent of the 'cycling proficiency' scheme.
Mr Shapps said: 'Today's funding will kick-start our plans to provide Bikeability training to all children by 2025, giving the next generation of cyclists a life skill and the confidence they need to choose a more active way to travel.'
Emily Cherry, executive director of the Bikeability Trust, said: 'The commitment of government to fund Bikeability in this next year is hugely welcomed as we seek to ensure that every child can access cycling as a life skill by 2025. This record investment will allow us to reach more children and, importantly, their families too, as a result of additional funding for our Family module.'