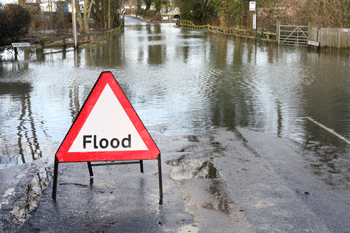 Communities across England are battling severe flooding and gale force winds, as councils respond to the most serious coastal surge for 30 years.
Severe flood warnings have been issued to 27 locations including the east coast, midlands and South East, as severe weather conditions made their way south.
Thousands were evacuated from their homes last night as a tidal surge hit north Norfolk, while the Thames Barrier was closed to defend London.
The Environment Agency warned flood defences in some communities could be 'overtopped' by a combination of high tides, strong winds and the North Sea surge.
Essex CC has redirected buses to evacuate residents and last night suspended its part-night lighting programme to better support emergency services, partners and local people.
Cabinet member for highways and transportation at Essex CC, Cllr Rodney L Bass, said: 'The safety and welfare of local residents is paramount and I want to keep the lights on, from 12 midnight to 5am, to assist the emergency services, our partners and residents during what is expected to be dangerous weather conditions.'
East Riding of Yorkshire Council said that while services had been 'stretched' across the region, the town hall had 'coped with demand' and had put in plans to maintain staffing and resources.
Deployment of sandbags by East Riding has been targeted to the worst affected areas and an emergency control centre is responding to flooding incidents.
Director of environment and neighbourhood services at East Riding, Nigel Leighton, said: 'The council's emergency procedures were implemented and staff worked round the clock to get assistance to residents as soon as possible and deal with flooding.
'All our planning was in place but with coastal flooding you cannot predict with certainty where incidents will occur. Where they did occur, we worked alongside the Environment Agency on the ground to deal with any issues with sea and coastal defences.'
North East Lincolnshire Council collaborated with numerous partners to support residents throughout the night and thanked residents for their support.
'Our various teams worked with colleagues from a range of agencies through the night, and continue to work today, to monitor the flood levels and make sure the vulnerable and those at risk are safe,' North East Lincolnshire Council leader, Cllr Chris Shaw said.
'It was terrific job by everyone in North East Lincolnshire and showed the community and can-do spirit the area's renowned for.'