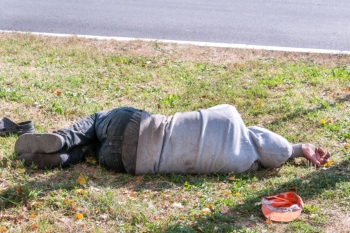 Legislation has failed to reduce the use of Spice by homeless people, a new study has concluded.
Research from Manchester Metropolitan University has found that legislation such as banning the sale of 'legal highs' has failed to reduce its popularity within the homeless population due to its high potency and low price.
The researchers spoke to homeless people about why they took Spice and the harms associated with its use, and concluded that service reform was the best way to tackle the persistent use of the drug.
Dr Paul Gray, report co-author and senior lecturer in criminology at Manchester Metropolitan, said: 'Despite the 2016 Psychoactive Substances Act leading to the demise of high street outlets selling new psychoactive substances in the UK, Spice remains easily accessible to the homeless population.
'As was the case in Poland and Ireland, rather than reducing use, tougher legislation has simply displaced Spice from the high street to the illegal street market.'
The report argues that service reform should prioritise improved access to medically supervised community detox and in-patient rehabilitation for dependent Spice users. It also recommends treatment services address both mental health problems and substance use.