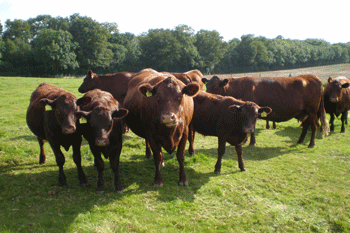 A herd of cows has been taken on by Havering Borough Council to keep grass at a local park in check.
While emphasising the Red Poll cattle won't replace any staff members, the London borough hopes its team of 'expert grazers' will help manage biodiversity in Bedfords Park.
Havering is working with the Government's environmental advisor Natural England to implement the scheme, which will see grazing cattle at four of the borough's parks over the next ten years.
'Around half the borough is made up of parks and green spaces, so we're always trying to stay at the forefront when it comes to using new ways to help improve biodiversity and protect our wildlife,' said Cllr Melvin Wallace, cabinet member for culture and community engagement.
'We're delighted to work with Natural England to implement this innovative scheme in Havering, and there are so many benefits. It will help combat the decline in the borough's butterflies and bees while also protecting wildlife that can sometimes become victims of lawnmowers, and also save money.
'At a time where we're trying to save £60m over four years, every penny counts!'
Allowed to choose where they graze, the cattle will help grasses and wildlife to flourish by creating patches within the meadows of varying height and density.
Emily Dresner of Natural England's Thames Valley team said: 'The introduction of grazing at Bedfords Park is a great example of how we can work together to introduce traditional methods of land management in our city.
'This kind of work provides a great opportunity to plan and deliver large scale landscape improvements that help improve both our wildlife and people's access to nature across London's green spaces.'
The grazing is part of a 10 year Higher Level Stewardship agreement set up with Natural England, which provides a framework for environmentally friendly land management.
Image: Red Poll Cattle Society