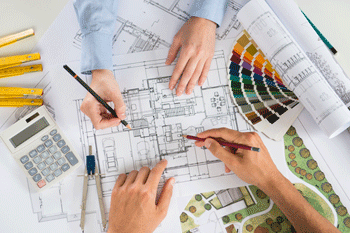 Office blocks that are left empty following the coronavirus pandemic risk being turned into potentially substandard housing because of permitted development rights (PDRs), local authority leaders say.
PDRs allow developers to convert buildings into homes without planning permission. Local authority leaders argue that these rights undermine the ability of councils to ensure there is a mix of housing in their areas and that it is of a high quality.
The Government has pushed for the expansion of PDRs, saying that they will help high streets 'bounce back from the pandemic' and deliver much-needed homes.
'We are creating the most small business friendly planning system in the world to provide the flexibility needed for high streets to bounce back from the pandemic,' housing secretary Robert Jenrick said in March.
'By diversifying our town and city centres and encouraging the conversion of unused shops into cafes, restaurants or even new homes, we can help the high street to adapt and thrive for the future.
'The public also want improvements to public services as quickly as possible and so these changes will also help schools and hospitals to adapt quickly to changing needs with a new fast track for extending public service buildings. This will help deliver more classrooms and hospital space by helping them extend further and faster.'
However, the Local Government Association (LGA) today called on the Government to scrap PDRs as part of a strengthening of the locally-led planning system.
New analysis by the LGA has revealed that more than 16,000 affordable homes could have been lost in England in the past five years as a result of permitted development rights.
Commenting ahead of the LGA giving evidence today to the Housing, Communities and Local Government Select Committee inquiry on PDRs, Cllr David Renard, LGA housing spokesperson, said: 'There is a real possibility that some office blocks, retail and commercial spaces will remain empty beyond COVID-19 and end up being converted into housing under permitted development rights, bypassing the local planning system and the voice of local communities, who will be hamstrung in their ability to raise any objections or issues.
'We have long had concerns over the substandard housing created from permitted development conversions, and the lack of any requirement for developers to provide affordable homes or supporting infrastructure.
'The planning system exists to enable the delivery of a mix of high-quality, affordable housing that meets the needs of local communities, and gives those communities the opportunity to shape and define the area they live in.'
He added: 'Councils are committed to building the housing this country desperately needs as part of the national recovery from coronavirus, but we urge the Government to protect the future quality of new homes by permanently revoking the permitted development rights for change of use into homes.'