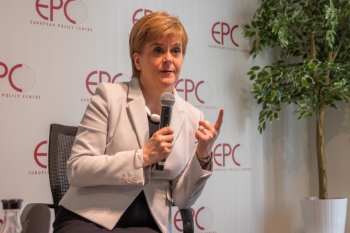 Council leaders in Scotland are demanding a meeting with First Minister Nicola Sturgeon over funding for next year.
The settlement of £12.5bn for 2022-23 was described as 'unacceptable' at a meeting of the Convention of Scottish Local Authorities (COSLA).
COSLA president Alison Evison said: 'Many in the meeting described this settlement for local government as the worst they had seen.
'Council leaders were clear last night that we could not sit back and simply accept this, and there was a real strength of feeling that enough is enough.'
When announcing details of the settlement, Scottish finance secretary Kate Forbes acknowledged the Budget had entailed 'difficult choices' but added 'councils should be fairly funded within the limited resources we have available' and said the settlement equated to a real-terms increase of 5%
However, COSLA said councils' core funding will be cut by £371m real-terms with no provision for pay, inflation or increased demand for services.
Resources spokesperson, Cllr Gail Macgregor, said: 'We have already written to the First Minister and cabinet secretary for finance in relation to the settlement, but there was a real strength of feeling that we need to press for a meeting at the highest possible level in a bid to make Government understand what this budget will really mean in our communities, and the detrimental impact it will have on core services.'
Image: Evan Lamos / Shutterstock.com