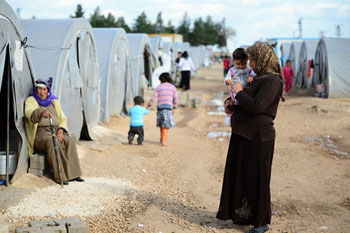 Council leaders in Scotland have confirmed that they will be able to take at least 2,000 Syrian refugees, many of whom are expected to arrive before Christmas.
The Convention of Scottish Local Authorities (COSLA) has confirmed the commitment both to the Home Office and the Scottish government.
COSLA's president, David O'Neill has said that the decision has come at the end of a process of consultation.
Cllr O'Neill said: 'A number of councils had already been in discussions with the Home Office about their involvement in the Syrian Vulnerable Persons Relocation Scheme.
'The last three weeks has seen all Scotland's councils willing to support a coordinated response to what can only be described as a humanitarian crisis. For many councils that has seen them committing to taking refugees immediately.'
Cllr Harry McGuigan, COSLA's spokesman, highlights what he characterises as Scotland's local authorities' 'excellent track record' with helping those in need of support.
He does, however, go on to emphasise the size of the challenge.
'[W]e also recognise the scale of the task and the necessity for detailed planning. We fully recognise that this is not simply about matching people to houses, and that we must meet the wider needs of people so that they can integrate into our communities and build a safe life in Scotland.'
Explaining COSLA's role in the resettlement effort, cllr O'Neill says that they will support and co-ordinate Scottish councils and negotiate with the Home Office and the Scottish government on their behalf.
'We call upon both the Home Office and the Scottish Government,' he concludes, 'to ensure that the programme is fully resourced so that local authorities and partners in the likes of health, the police and the voluntary sector can put appropriate services in place to meet the needs of these very vulnerable people.'
Photo: Procyk Radek/Shutterstock.com