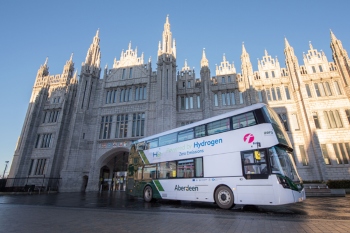 Aberdeen has claimed a world first after a fleet of double-decker hydrogen buses officially launched into service.
The buses, which cost about £500,000 per vehicle, were built by UK firm Wrightbus and will be operated by First Bus in a project led by the city council.
The zero-emission buses emit just water from their exhausts and the hydrogen itself is said to be obtained from 'just wind and water'.
The £8.3m project has been funded by the city council, the Scottish Government, and the European Union (FCH JU).
City council co-leader Jenny Laing said: 'It's great to see the world's first hydrogen double-decker buses starting on their service routes in Aberdeen.
'The buses are a fantastic asset to the city as an entrepreneurial and technological leader as they have even more advanced technology which pushes established hydrogen boundaries and also greatly assist us in tackling air pollution in the city.'
Wrightbus chairman, Jo Bamford, nephew of JCB chairman Lord Bamford, said it was a proud moment to see the buses in full operation for the first time.
The new 60-seat double-deckers are said to save one kilogram of CO2 with each kilometre they drive. They are also close to being silent and take less than 10 minutes to fully refuel.
The UK's first hydrogen production and bus refuelling station was opened in Aberdeen in 2015 as part of a £19m city council-led green transport demonstration project that has tested the economic and environmental benefits of hydrogen transport technologies and aims to drive their development.
This article first appeared on Transport Network