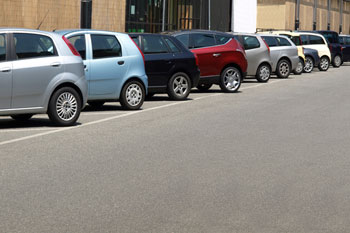 Scottish Conservative council leaders have criticised a proposed car park tax that could be introduced in Glasgow and Edinburgh condemning it as a 'total disgrace'.
The tax is an amendment to the Transport Bill currently under consideration by Holyrood which is designed to reduce congestion on the roads and cut air pollution.
Conservative council leaders have warned Glasgow and Edinburgh city councils against adopting it. They argue it will hit people driving into the cities.
Every Scottish Conservative council leader in Scotland has today signed a pledge opposing the introduction of the SNP's Car Park Tax.

From Holyrood to local councils across Scotland, we will fight to stop it being introduced.#StopTheCarParkTax pic.twitter.com/7YOUkRvb7b
— ScotConservatives (@ScotTories) February 21, 2019
Analysis from Scotland's most recent census shows that 255,381 car and van work journeys are made into the two cities every day. Nearly 150,000 of these begin outside the city boundaries.
The upshot of this will be that people commuting from places such as South Lanarkshire, Renfrewshire, and West Lothian will be hit by taxes that they had no say in implementing.
'Nicola Sturgeon claimed over the weekend that people who didn't live in areas where this tax is to be imposed wouldn't be affected. How out of touch can she be?' said Murdo Fraser, Scottish Conservative shadow finance secretary.
'These shocking figures show that even if only Glasgow and Edinburgh decide to go ahead and impose this levy, hundreds of thousands of commuters from those cities, and many other parts of Scotland, could be hit by the SNP's car park tax.
'That's thousands of people doing the right thing, going to work, and being punished by the SNP for the effort.
'When public transport is so bad, leaving with no option but to take the car, it is a total disgrace.