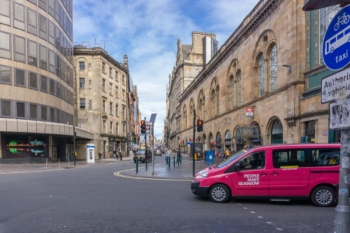 Air pollution in Scotland has once again breached legal limits following a historic low during lockdown, campaigners have revealed.
Analysis by Friends of the Earth Scotland found air pollution reached dangerous limits in 2021, with many streets seeing a pollution spike despite restrictions such as working from home.
It said that 2020 was the only year the country has met the legal air quality standards that came into force in 2010.
The campaigners looked at two toxic pollutants which are primarily produced by transport. They found that last year, Hope Street in Glasgow once again breached legal air quality limits for nitrogen dioxide, while other streets such as Salamander Street in Edinburgh and Atholl Street in Perth experienced increases in particulate pollution.
Friends of the Earth Scotland's transport campaigner, Gavin Thomson, said: 'Air pollution from transport is responsible for thousands of premature deaths in Scotland every year, and causes serious heart and lung issues. The growing evidence base showing the links between air pollution and vulnerability to Covid-19 is only the latest reason why we have to act to protect public health.
'The Low Emission Zones being introduced will not restrict private cars until summer 2024. Meanwhile, with pollution spiking in Perth, we should be asking why only four cities in Scotland are introducing LEZs.'