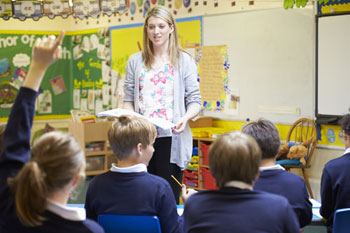 All schools, colleges and early years settings will be closed as of next week as part of the effort to contain the Coronavirus pandemic.
Starting next Monday, children will have to remain at home with their families as schools close down in response to the spread of Covid-19.
The children of key workers, such as NHS staff, police, and supermarket delivery people, as well as vulnerable children, will still be able to attend school.
In order to ease the pressure on education facilities, the Government also said that Ofsted will cease all inspections of schools and colleges with immediate effect.
'Fighting Coronavirus and protecting the vulnerable and our NHS are the Government's top priorities right now,' said education secretary Gavin Williamson.
'That's why we are asking schools, nurseries and colleges to close – except for vulnerable children and the children of key workers.
'We are facing increasingly extraordinary circumstances, but by asking schools to support our key workers and vulnerable children I am confident we will help beat this virus.
'I am deeply grateful for the civic spirit and dedication of everyone working in education, and I will continue to provide my full support throughout this crisis.'
Responding to the announcement, Rachel Dickinson, president of the Association of Directors of Children's Services (ADCS), said: 'The government's decision to close schools across England will not have been taken lightly and reflects the extraordinary times we are in.'
'Local authorities and schools will have been preparing for school closures for some time and local authorities will be working hard following their business continuity plans to ensure vulnerable children and their families are safe and provided for, including children with special educational needs and disabilities and pupils on free school meals,' she continued.
'It's important to recognise schools provide much more than education to our children they are a vital safety net for the most vulnerable learners, therefore, we are pleased schools will be open for this cohort and for children of key workers throughout the outbreak.
'Social workers and members of the wider children's workforce must be included in this list, we cannot support our most vulnerable children and families without supporting the social workers, residential care workers and many others who work with them.'
Tania Bowers, legal counsel at the Association of Professional Staffing Companies (APSCo), warned this decision would have an impact on staff.
'This will, of course, have a major impact on our education members and their contractors – i.e. supply teachers given that if there is no work then there is no pay,' she said.
'Education recruiters will be in the unenviable position of deciding whether to terminate assignments with their clients and will also have to look at their own business continuity planning given this decision.
'There is also the issue of protecting the income of the flexible workforce given that other sectors are also being impacted. We hope that the package announced by The Chancellor to help businesses survive this crisis will be accessible soon and easily.'