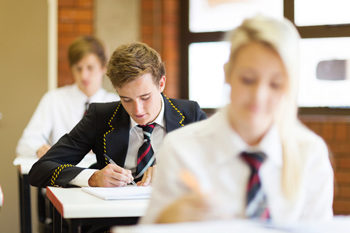 School leaders have warned that school children are suffering from chronic underfunding by the Government.
A survey by the school leaders' union NAHT has revealed that almost a third (31%) of school leaders reported making cuts to balance their budget in 2020/21.
Based on more than 1,500 responses, the survey found that 35% of school leaders in England expect they will be forced to make cuts this academic year.
One in four (26%) school leaders also predict a deficit budget in 2021/22 based on current funding levels.
'The Government's failure to invest in schools over the past decade is forcing them to cut back on staff, support for pupils, and activities that enrich the school day,' said Paul Whiteman, the general secretary of school leaders' union NAHT.
'Despite all the rhetoric on additional investment in schools, it is clear that school budgets remain under enormous pressure.
'A far more ambitious programme of investment is required from the Government if schools are going to be able to deliver the education that the current generation of pupils need and deserve.'
Responding to the survey, a Department for Education spokesman said: 'This Government is providing the biggest uplift to school funding in a decade – £14bn in total over the three years to 2022-23. This is a £7.1bn increase in funding for schools compared to 2019-20 funding levels.
'Next year, funding is increasing by 3.2% overall, and by 9.6% in 2022-23 for high needs. The National Funding Formula continues to distribute this fairly, based on the needs of schools and their pupil cohorts.'