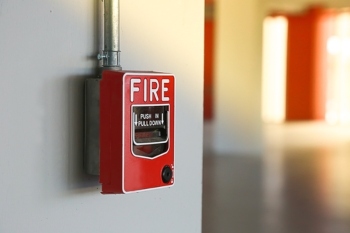 School buildings are twice as likely to be in a blaze compared to other non-residential buildings, new research has found.
Zurich Municipal found the average school posed a fire risk 1.7 times greater than non-residential buildings. Despite this, two thirds (66%) lack adequate fixed fire protection measures and a quarter are rated 'poor' for fire detection.
The research shows that firefighters have been called to nearly 2,000 school blazes in the last three years, with malfunctioning appliances or equipment, faulty electrics, arson and kitchen blazes among the leading causes of school fires.
Tilden Watson, Zurich Municipal's head of education, said: 'An alarming number of school buildings pose a high fire risk - yet many are poorly protected against a potential blaze.
'Unless ministers bring England into line with other parts of the UK, where sprinklers are mandatory, large fires will continue to blight schools. This is harming children's education and putting lives at risk.'