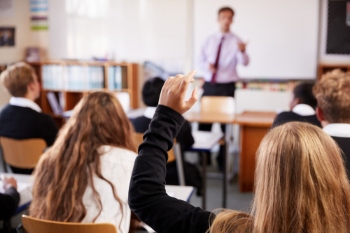 School leaders have warned of 'logistical difficulties' after the education secretary recommended combining classes to deal with workforce shortages caused by COVID absences.
Geoff Barton, general secretary of the Association of School and College Leaders (ASCL), has welcomed an email from Education Secretary Nadhim Zahawi which recognised that high rates of COVID-19 may cause school staffing difficulties.
Mr Zahawi reportedly told the ASCL that the Department for Education was working with school leaders to share case studies on developing and adopting flexible learning approaches. He also recommended that one way in which schools and colleges could deal with absences caused by COVID was to combine classes.
In response, Mr Barton said that there were 'logistical difficulties' with this idea, but acknowledged that it might be preferable to remote learning.
'There are obvious logistical difficulties in combining classes because of the challenge of staffing and teaching a large group of children or young people at the same time,' he said.
'However, school leaders may decide that this is preferable to sending home classes or year groups to learn remotely. That decision will very much depend upon the availability of staff and the individual circumstances faced by the school or college.
'These are clearly difficult decisions at a difficult time. Schools and colleges are working incredibly hard to do their very best for their pupils.'
A Department for Education spokesperson said: 'Schools are working tirelessly to ensure classrooms are safe for face-to-face learning, because together we want to help keep young people in the classroom.
'We are helping conduct mass testing, bringing in supply staff and increasing ventilation support with CO2 monitors and air purifiers, while there will be no Ofsted inspections while testing is happening. Combined with the hard work of schools and teachers, we are confident that our measures will maximise classroom time for students.'