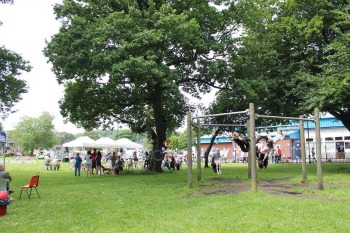 The buzzword at the moment is 'localism'. It symbolises government with a human face where you and I, bypassing traditional bureaucracy and evading Whitehall mandarins, shape policy. In politics, however, there's often a large chasm between idea and reality — the best laid plans and all that. And in politics pleasant words and good intentions can quickly morph into cliché and disappointment.
But some people wish to reclaim 'localism' and breathe a little substance back into it. I met two such individuals in Sale West, an estate in Trafford, Greater Manchester. Ralph Rudden, an energetic campaigner for his place of birth, and Clare Standish, a community worker from north Manchester, are Big Local ambassadors. And they are, in Ralph's words, 'passionate about telling the Sale West story'.
Big Local is very much in tune with the spirit of the age. Funded by the Big Lottery Fund and managed by Local Trust, it seeks, in the words of its website, to bring 'together all the local talent, ambitions, skills and energy from individuals, groups and organisations who want to make their area an even better place to live.' It provides £1m each for a 10 year period to designated areas with the intention of empowering individuals to work independently of any authority on whatever project — a public park or a new community centre, for example — they feel benefits their area the most.
Summing up the Big Local philosophy, Debbie Ladds, the Local Trust chief executive responsible for overseeing the project, explains: 'I think our approach and philosophy for Big Local is about residents having a greater role in creating even better places for them to live, work and to socialise. We would put residents in the lead of a particular programme to enable them to gain the skills and confidence to make a difference to the things that matter most to them in their community.'
Ralph has always played a lead role in his community. A former member of the armed forces, he is accustomed to taking charge and getting things done. He has served on the council and he's chaired pretty much every committee that required a chair. When the opportunity to apply for Big Local funding arose, he was not going to pass it up. This was, he explains, 'the first time ever a major funder has had the confidence to say to residents, "we're putting you at the front and you can make the decisions".'
Sale West is cursed by geography. It is a relatively poor enclave within a wealthy area, which means it is frequently overlooked. 'Sale West has not had the funding because it's not a ward of deprivation,' Clare explains. 'It's actually within a ward that is one of the top ten affluent areas in the country.' There is money floating around. 'We've got two ex-chief constables living there, three high court judges,' Ralph says, gesturing in the direction of comfortable-looking houses which are, apparently, going for over £3m.
Wealth, however, comes down to distribution and ownership, not proximity. And when you enter the estate, you can immediately tell where the cash flow becomes a trickle — and then stops. The flaking paint and creaking chairs of the community centre where we meet — a low building which squats among the homogenous housing — are evidence enough of the estate's lack of resources. Cash — like my taxi driver — struggles to find its way through the streets of Trafford and into the secluded residential area of Sale West.
Political boundaries are not an issue when applying for Big Local funding however. The programme, which currently works with 150 areas, does not require them to conform to any ward, borough or parish borders to be eligible for financial assistance. Instead, it looks for natural communities out of which Big Local Partnerships can be formed.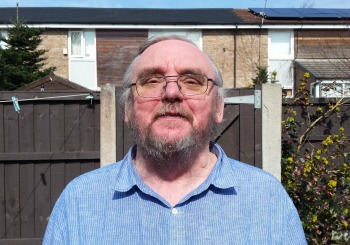 These partnerships are made up of people — Big Local ambassadors — who wish to have a say on what goes on in their local area. A key aspect of these groups is they must be resident led. 'One of the few rules we have,' Debbie explains over the telephone, 'is that [the partnership] has to be 51% residents'. This ensures the locals remain in charge, but it also affords them the opportunity to bring in outside expertise.
Ralph assures me this makes for a strong team structure. 'Every member of the board,' he says, 'brings a certain skill to the table which complements the rest of the board.' And if its required they have the option of bringing in outsiders, like Clare, to fill in any skills gaps.
The power always remains with the partnerships, or boards. Big Local does not impose anything. 'They decide where they get their expertise from and who they work with as well,' Debbie says. 'It's not about us selecting organisations for them to work with or us telling them who they need to work with.' Big Local can provide support — by organising peer-to-peer learning, for example — but in the end, as Debbie puts it, 'it's up to them to try and work out what they want to do and who's best to work with.'
The Big Local Partnerships control the £1m. Thanks to their democratic structure — or at least a structure that is rooted in the community — they cannot just dispose of the cash as they see fit. They must be responsive to the residents' wishes, which means the ambassadors must get out there and learn what these are. Ralph has definitely done that.
In the early days of the project Ralph would sit at the bus stop and talk to people about where they think the money should go. 'It just made sense to me,' he explains, 'because we are one estate and there's one way in and one way out for people using public transport…anyone who is going to be at a bus stop, it's a 99.99% possibility that they will be a local resident.'
This enabled him to get the word out that there was money to spend and the residents were in charge of spending it. But this was just one means of outreach. They also issue questionnaires and hold public meetings, and, basically, take every opportunity to encourage the locals to come up with ideas on how the money could be used to improve the area. 'We're also planning a launch event,' Clare says, 'to really hit home that we've got the money now, this is us for 10 years, give us your ideas. And what we want to do is handover some of the power to people at the event.'
And it can be anything the residents want. It could be something relatively small: for example, they've already converted an old pub car park into a community garden with raised beds on a concrete base. Or it could be something more substantial: the suggestion has been mooted that the money could go into building a new community centre.
But the one question which hangs over the project is: Is it sustainable? 'As with every programme,' Debbie explains, 'everyone wants it to carry on forever. So one of the questions we're asking of every community is what happens when the funding stops?' Debbie hopes Big Local ambassadors can think of ways of stretching the pounds beyond the 10 year period. She would like to see them investing the money in schemes which will continue to generate decent returns long after Big Local has ceased to exist.
Middlesborough is, perhaps, a good example. On a visit to one of the Big Local areas there, Debbie discovered they were making the most of their cash. They had managed to raise an extra £90,000 through judicious use of their funds. 'The mayor was there saying: "How have they done this? This isn't a community that would usually do this sort of thing.",' she laughed, 'and actually its just the residents are passionate about wanting to make a difference.'
Clare and Ralph are conscious of the issue of sustainability as well. 'It would be a shame to spend the million and not have anything to show for it after that 10 years,' Clare says. 'That's not what we're about.' 'If possible we will always look to get the money we release to be internally circulated,' Ralph chips in, 'and by that I mean to get more bang for your pound.'
This is exactly what Debbie is hoping for. By way of an example, she explains that a number of groups have purchased housing. 'They're talking about renting those out,' she says, 'doing them up using local trades people, giving them odd jobs, apprenticeship training, and then potentially getting mortgages off the back of the houses they own to buy more houses to just create a cycle of drawing in money.' Not only does this have the advantage of raising revenue, it also keeps the cash flowing within the particular area and helps build up the local skills base too.
Whatever the locals decide to do with their £1m, it will be their decision. Theresa Grant, the chief executive of Trafford Council, certainly has faith in them. 'I think [Big Local] is brilliant and they couldn't have picked a better area,' she tells me. 'The Sale West community is what I refer to as my self-help community…They don't come to the council and say, "Why are you not helping us?" They come and they say, "We have an idea and we can do this. Now how can you help us to achieve it?"'
It seems that localism is alive and well in Greater Manchester, and thriving through the Big Local initiative. And Clare and Ralph — who Cllr Grant describes as 'our greatest community asset' — are striving to ensure it remains so. We'll have to return after their 10 year period is up to assess its progress, but, at this early stage, it certainly seems promising.