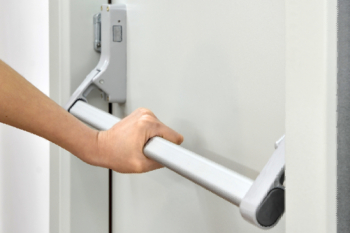 A fire safety investigation in the wake of last year's Grenfell tragedy has found the risk to public safety from faulty fire doors 'remains low'.
A fire door in Grenfell Tower designed to resist fire for up to 30 minutes failed after approximately 15 minutes when it was tested by the police.
In response to this discovery, the Government set up an investigation which revealed other fire doors manufactured by the same company, Manse Masterdor, did not consistently meet the 30 minute fire resistance standard.
However, the National Fire Chiefs Council told the investigation the risk to public safety from these faulty doors remained low because they were just one out of a range of safety measures normally installed in a building.
The failure of one protection measure should not significantly change the overall safety of residents, they concluded.
Speaking to Parliament yesterday, housing secretary James Brokenshire MP that while public safety was 'paramount', the expert advice was that 'the risk to public safety remains low.'
'However, they advise there is a performance issue with Manse Masterdor which is why we are taking the responsible step of writing to relevant building owners setting out clear advice on what they should do,' he added.
'Fire service advice to residents remains the same. Regularly test your smoke alarms, ensure your front door is properly closed and in the event of a fire follow existing fire procedures for the building.'