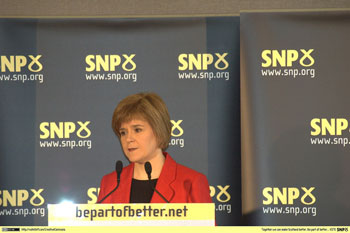 The SNP has announced plans for wide-reaching support for cities across the UK as part of action to end national austerity.
Launching the SNP's General Election manifesto this morning, its leader Nichola Sturgeon said the party would 'make common cause and build alliances with others of like mind across the UK to deliver the progressive change that so many want to see'.
Commitments detailed in the document include new £300m pots in Scotland, Wales and northern England to support urban growth and 'rebalance the UK'.
It outlined how funding for 'national' projects in London would have to be met with 'consequential' allocations for Scotland, Wales and Northern Ireland.
The party said it would also seek a commitment to deliver a High Speed Rail connection between Glasgow, Edinburgh and the north of England to London, constructed both from the 'north down' and the 'south up'.
Support would also be given for regions to develop new city deals and win powers similar to those recently gained by Glasgow and Clyde Valley.
The party said it would back an annual UK house building target of 100,000 affordable properties and lever additional capital spending to support residential development in Scotland.
With Sturgeon emphasising that ending austerity would be the SNP's 'number one priority', the SNP revealed it would increase departmental spending by 0.5% every year to enable at least £140bn of extra investment in the economy and public services.
Today's manifesto confirmed the party would also support introduction of a mansion tax and a rise in the minimum wage to £8.70 per hour.
Sturgeon said: 'This is a manifesto to make Scotland stronger at Westminster. The pledge I make to the Scottish people is this. If you vote SNP on 7 May, we will make your voice heard more loudly and clearly than it has ever been heard before at Westminster.
'We will seek agreement that the Scottish Parliament should move to full financial responsibility. And as part of a phased transition, we will prioritise early devolution of powers over employment policy, including the minimum wage, welfare, business taxes, national insurance and equality policy - the powers we need here in Scotland to create jobs, grow revenues and lift people out of poverty.'
Photo: flickr/theSNP