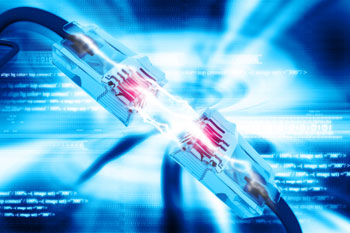 A flexible national minimum standard of broadband speed is necessary to stop hundreds of thousands of homes and businesses from falling into a 'digital twilight zone', councils say.
The Government has pledged to give everybody the legal right to request a broadband connection capable of delivering a minimum download speed of 10Mbps by 2020.
Describing this move as a 'significant step', the Local Government Association (LGA) warns that the fixed download speed of 10Mbps will quickly become outdated.
Instead, they say, a new minimum standard which is a percentage of average national speeds should be brought in, so when the national average of download speeds inevitably rises, the minimum standard will too.
The LGA has also called for clarification on whether the Government will specify a minimum performance of other elements which make for a good quality internet connection, such as upload speed.
Cllr Mark Hawthorne, chairman of the LGA's People and Places Board, welcomed the Government's commitment to universal broadband, but said: 'there is a real concern that as the broadband needs among households and businesses in rural areas grow they will be left lagging behind because the national minimum standard quickly becomes obsolete.
'This is why it is paramount the minimum standard is constantly monitored and reviewed and it keeps track with national average speeds and that speeds users experience at peak times are still within minimum standards.
'Without this there is the real possibility of some areas – particularly in rural and hard-to-reach areas - falling into a digital twilight zone.'
He added: 'Councils are best placed to understand the digital needs of local areas. They are at the centre of improving mobile connectivity through helping implement superfast broadband programmes, organising local initiatives to raise residents' and businesses' digital skills and working with mobile operators to best place infrastructure.'