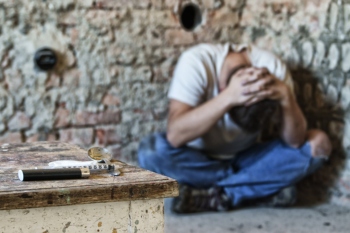 Local authorities should be given an extra £550m over the next five years to deliver drug treatment in their local communities, an independent review has said today.
The Professor Dame Carol Black review calls on the Government to make a significant investment in the drug treatment and recovery system, and recognise addiction as a chronic health conditions.
It warns it must work across departments to improve treatment, employment, housing support and the way people with addictions are treated in the criminal justice system.
Professor Dame Carol Black said: 'Drug deaths are at an all-time high and drug addiction fuels many costly social problems, including homelessness and rising demands on children's social care.
'The Government faces an unavoidable choice: invest in tackling the problem or keep paying for the consequences. A whole-system approach is needed and this part of my review offers concrete proposals, deliverable within this Parliament, to achieve this.'
In response, a cross-government drugs unit has been set up to tackle drug misuse across society.
Health and social care secretary, Sajid Javid, said: 'When I first commissioned Dame Carol to do this review as home secretary, we knew the sale and use of drugs drives serious violence and homelessness but this review shows that the health implications are just as devastating.
'Tackling this issue requires strong collaboration across government and the new specialist Joint Combating Drugs Unit will help us to do just that.'
The Local Government Association (LGA) warned funding for public health services, including drug prevention and treatment, has failed to keep pace with demand.
'As this report states, investing in drug prevention and treatment now will reap benefits for everyone longer-term, including for the NHS, criminal justice and other public services,' said Cllr David Fothergill, chairman of the LGA's Community Wellbeing Board.
'We need a closer, holistic approach which recognises that clinical services alone cannot lead to recovery, but also extra support and opportunities for drug users to gain employment, housing, mental health care and help from other agencies.'