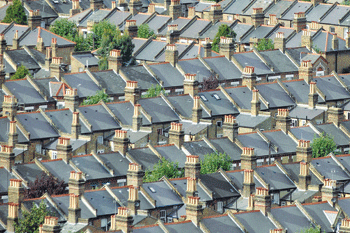 England's housing backlog has reached four million homes, according to new research into the scale of the housing crisis facing the country.
The research, conducted by Heriot-Watt University for the National Housing Federation and Crisis, found the country needs to build 340,000 homes per year until 2031 to meet the housing shortage.
The charities warn this figure is higher than the government target of 300,000 per year as estimates have failed to take into account the true scale of housing need created by homelessness and high house prices.
The research also found that two-fifths of all new homes built every year must be affordable - nearly twice the amount of previous estimates. It said 90,000 should be for social rent, 30,000 for intermediate affordable rent, and 25,000 should be for shared ownership.
'This groundbreaking new research shows the epic scale of the housing crisis in England,' said David Orr, chief executive of the National Housing Federation.
'The shortfall of homes can't be met overnight – instead, we need an urgent effort from the Government to meet this need, before it publishes its social housing green paper in the summer.
'The green paper will set out the Government's approach to tackling a number of key issues, like stigma of social housing tenants. However, it is clear that many of these stem from a chronic underinvestment in affordable housing. Fixing this should be the Government's top priority. As a first step, ministers should make the £2bn they promised for social rent available immediately.'