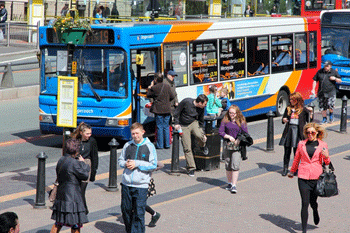 A revolution in the introduction of 'greener, cleaner' buses in the UK is helping cut carbon emissions and reduce pollution, according to environmental experts.
LowCVP for Greener Journeys says innovation and supportive policy over the last decade and more has transformed the bus sector from being a part of the problem to being an important part of the solution to poor urban air quality and tackling climate change.
In a new report, The Journey of the Green Bus, the umbrella group of public and private sector organisations says the ability to move around in increasingly congested towns and cities is more critical than ever and the introduction of cleaner, low emission buses is vital.
LowCVP managing director Andy Eastlake said: 'There's no doubt that an effective bus operation can deliver one of the best solutions to the mobility challenges of air quality, climate change, congestion, convenience and, of course, cost.'