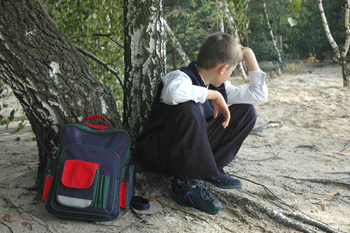 'Troubled families' have an average of nine different serious problems, according to a new report into the government's programme.
The data shows that the families being helped by the scheme have 'significant' problems with truancy, youth crime, anti-social behaviour and worklessness. Nearly three-quarters (71%) have health problems, 46% have mental health issues and 29% are experiencing domestic violence or abuse.
The report also shows that police have been called out on average of five times per family in the past six months, and 35% have a child taken into care or who is a concern to social service.
Head of the Troubled Families programme, Louise Casey, said: 'This report paints a picture of families sinking under the weight of multiple problems and is an illustration of why we can't treat the individual problems of individual members of a complex family in isolation.
'It shows that these problems are interlinked and that they spiral out of control unless we do something about it.
'The best services understand that and provide practical solutions as well as challenge and support. However this data also shows how big the challenge is and why we need to take this approach to a wider group of families with a wider set of problems as soon as we can.'
Local authorities are paid up to £4,000 on a payment-by-results basis for turning around troubled families. This includes getting children back into school, cutting crime and anti-social behaviour and getting adults into work.
Chief executive of 4Children, Anne Longfield, OBE said: 'It is unthinkable that families with such complex problems can be 'turned around' without consistent ongoing help to tackle these damaging underlying issues.
'That is why it is so important for local agencies to work together to provide the joined up, holistic support the whole family's needs. This has to be a priority for all those seeking to review and realign services in their locality.'
Figures announced by Eric Pickles earlier this month showed that 53,000 troubled families were helped by councils over the past two years.