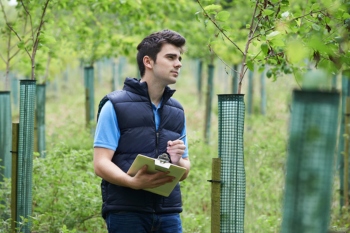 More than 16,000 new green jobs could be created in areas with the greatest employment challenges with Government investment and raised ambition, according to new research by a think tank.
Green Alliance said there is significant potential for new green jobs through coastal restoration, tree planting and urban green spaces in the 126 areas with the greatest challenges to the local labour market.
The research, conducted by WPI Economics, shows many of these constituencies are to be found in areas often identified as the Red Wall.
It found coastal communities with potential for seagrass planting have a higher proportion of people on furlough and more challenging employment prospects. Two thirds of the best land for tree planting can be found in constituencies with higher than average labour market challenges.
Sam Alvis, head of green renewal at Green Alliance, said: 'The opportunity is there for the chancellor to create a legacy of new high quality jobs across Britain. Supporting innovation in these types of green jobs will put nature at the heart of the Government's levelling up agenda and help local communities build back better and greener.'
Green Alliance are urging the chancellor to include environmental projects alongside other infrastructure in the Government's £4.8bn levelling up fund.
Patrick Begg, the National Trust's outdoors and natural resources director, added: 'This important research shows that by investing in projects that make a greener recovery a priority, the Government could generate green jobs for the communities that need them most. This would accelerate the journey we are on to a more prosperous future for people and planet.'