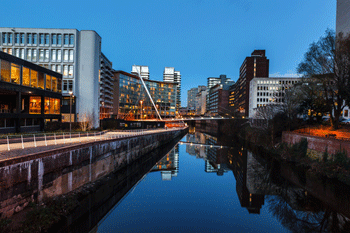 The economic performance of the Greater Manchester region has failed to match the growth of the city since the 1980s, according to a new report.
Manchester Transformed: Why we need a reset of city region policy argues that many of the region's citizens are excluded from the benefits of economic growth.
The underlying problem, according to the report, is a limited capacity to create high quality jobs and a problem with commuting as public transport is blocked by the boom in inner city flat building.
Karel Williams, professor of accounting and political economy at Alliance Manchester Business School (Alliance MBS) and co-author of the report, said: 'We think this report sheds light on the result of a physical transformation of the city by private property developers who have in Manchester city and Salford, created a private new town of office blocks and one and two bed rented flats in which a young migrant work force lives. This incidentally means that commuting cannot solve the problem of the deprived Northern boroughs.'
The report call for a 'policy reset' on the city region to reflect the city and the economy as it is now.
Professor Williams added: 'With 80,000 people on the housing waiting lists of the ten GM boroughs, the first priority should be social housing; with so many on low wages, the first priority in transport should be much lower public transport fares; with so much employment in sectors like retail and hospitality, the first priority should be to ensure that all chain based operators in these sectors pay the GM Living Wage.'