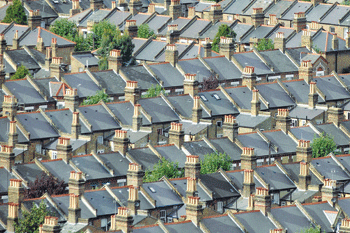 A think tank has warned rent controls are not the answer to the UK's growing housing crisis and will only make the situation worse.
A new report by the Institute of Economic Affairs said imposing rent controls will not ensure more homes will be built and could even force some landlords out of business.
Instead, the report recommends a series of measures designed to increase the number of homes available, including an automatic right to build on land, unless specifically prohibited.
It also recommends abolishing the greenbelt system and letting councils raise money with local income and land value taxes.
'The housing crisis is borne out of, and perpetuated by, the severe lack in supply of houses,' said the institute's head of health and welfare, Dr Kristian Niemietz.
'Trying to tackle this problem by imposing rent controls will do nothing to address the root of the problem and will only cause adverse effects for landlords and prospective tenants alike.
'The housing crisis has become the single most important driver of poverty in the UK and so it is crucial that policymakers look to improve affordability by scrapping restrictive planning schemes and encouraging development.'
'An increase in supply of houses will allow house and rent prices to fall – much more so than any government-set price,' added Dr Niemietz.
To read our feature on the Green Belt visit here.