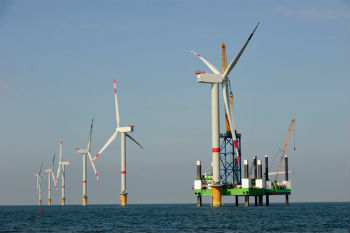 A new report from the National Audit Office claims contracts worth £16.6bn awarded to eight renewable generation projects are at risk of delay and may increase costs to the public.
The Final Investment Decision enabling for Renewables (FIDeR) launched in 2013 by the Department of Energy & Climate Change aimed to prevent delays to investments in renewable generation projects, and awarded early contracts to five off shore wind farms, two coal plant conversions to biomass and one biomass combined heat and power plant.
DECC also established the Contracts for Difference regime to support projects commissioned from 1 April 2015.
This scheme offers low-carbon electricity generators an agreed price for the electricity they will generate - known as the 'strike price' - providing support to the extent that the strike price exceeds the wholesale price for electricity. The regime will replace the Renewables Obligation and should offer better value for money by lowering financing costs.
However the report found that, despite the short term confidence boost to the renewable industry, the scale of the contracts have potentially increased costs to consumers due to the lack of competition involved in awarding the funds.
The report also found that the early contracts have taken 58% of the total funds available under Contracts for Difference until 2020-2021.
Amyas Morse, head of the National Audit Office, said: 'The Department of Energy & Climate Change awarded the early contracts without price competition to avoid an investment gap. In so doing it has brought forward investment decisions by at least five months.
'The investments supported should contribute towards the UK's achieving its renewable energy target in 2020, but it is not clear that awarding fewer early contracts would have put the achievement of that target at risk.
'As the Contracts for Difference regime has the potential to secure better value for consumers through price competition, committing so much of the available funding through early contracts, without competition, has limited the Department's opportunity to secure better value for money.'