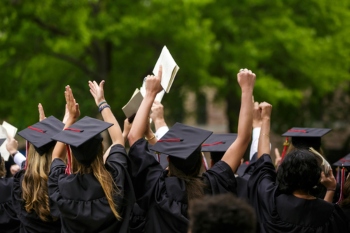 More than a quarter of young people from the most disadvantaged areas have applied to start university or college this autumn, new figures have shown.
The figures from UCAS show the number of the poorest young people applying has increased to record levels, increasing from 306,200 to 320,420 compared to last year.
Overall, there were also record application records from 18 year olds in England (44.1%), Wales (37.5%) and Northern Ireland (52.6%).
However, the number of applications from mature students fell by 17% compared to 2021. At the height of the pandemic last year, applications jumped by 24%.
Clare Marchant, chief executive at UCAS, said: 'The application is just one part of the discovery journey and the focus must now be on ensuring applicants have the best information and advice to transition into successful students or apprentices – whatever is right for them.
'The entire education sector will be continuing its high levels of support, particularly as students sit formal exams for the first time in three years.'