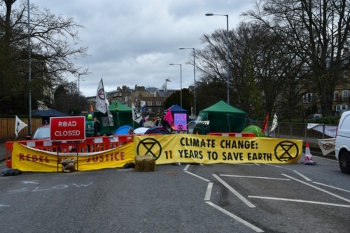 Boris Johnson's government will bring back measures thrown out by the House of Lords in January to stop protesters 'locking on' to infrastructure.
Today's Queen's Speech included confirmation that new legislation would be introduced to 'ensure the police have the powers to make the streets safe'.
One of the aims of the public order bill, which was briefed by the Government yesterday, is to end tactics used by protest groups including Just Stop Oil, Extinction Rebellion and Insulate Britain.
It comes after Thurrock BC - alongside Essex CC – won an injunction at the end of last month against Just Stop Oil to prevent activists stopping vehicles at fuel terminals or blocking roads.
Legally, the council must provide details of the court order and supporting documents in all the locations named in it. But Thurrock was branded by Just Stop Oil as 'irresponsible and unjust' after it published the full names and addresses of the environmental protestors on lampposts and busstops throughout the area.
The council, which said that it had acted 'completely lawfully' in accordance with the court's direction, has subsequently redacted the addresses.
According to the briefing on the public order bill, new measures will include criminal offences of locking on, and going equipped to lock on to others, objects or buildings – carrying a maximum penalty of six months' imprisonment and an unlimited fine.
The speech, which was delivered by Prince Charles, also said the bill would 'protect the integrity of the United Kingdom's borders and ensure the safety of its people'.
He added: 'Her Majesty's ministers will take action to prevent dangerous and illegal Channel crossings and tackle the criminal gangs that profit from facilitating them.'