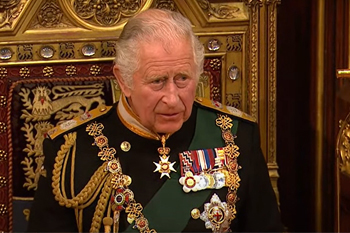 The Government has unveiled a Queen's Speech to boost the economy in a bid to fight the cost of living crisis.
In a speech delivered by Prince Charles in the absence of the Queen, the Government pledge to drive 'growth to improve living standards and fund sustainable investment in public services'.
He added: 'This will be underpinned by a responsible approach to the public finances, reducing debt while reforming and cutting taxes.'
The legislative programme included a Levelling and Regeneration Bill which will put beauty at the heart of new housing developments.
The speech claimed it would 'drive local growth and empower local leaders to regenerate their areas', while the public would have more say over developments in a planning overhaul.
Further housing legislation is expected to include a Social Housing Reform Bill to improve safety standards in the aftermath of Grenfell. A Leasehold Reform Bill and a Private Rented Sector Bill are designed to protect those who rent and buy in the private sector.
There are plans to overhaul schools, giving Ofsted more powers to crack down on unregistered schools,
Following the recent High Court injunction by Essex CC and Thurrock BC, the Government has included a Public Order Bill to prevent 'guerrilla protests', such as those organised by Extinction Rebellion and Just Stop Oil.
But in a move to tackle climate change issues, there will be an Energy Bill to invest in low carbon and energy efficient homes.
And a procurement Bill will action the recent White Paper on Transforming Public Procurement, while the speech also suggested there would be legislation 'to prevent public bodies engaging in boycotts'.
A raft of bills were designed to tackle Brexit, illicit finance and economic crime, and 'champion security' around the world.
Cllr James Jamieson, chairman of the Local Government Association, said: 'There is an urgent need to turbo charge the speed at which we are devolving powers to local areas so we are pleased that the Government has used the Queen's Speech to make good on its commitment to offer all of England the opportunity to benefit from a devolution deal by 2030.
'Turning levelling up from a political slogan to a reality will only be achieved if councils have the powers and funding they need to address regional inequality, tackle concentrations of deprivation and make towns and communities across England attractive places to live, work and visit.'
However, the mammoth list of 38 bills included nothing on health and social care, and plans for care leavers bill appear to have been dropped and any hopes of local government finance reforms also seem to have been dashed.