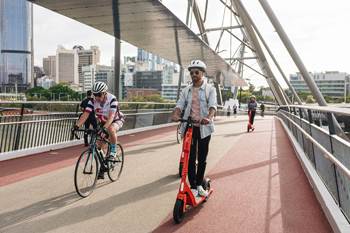 Shared mobility such as e-scooters are an important part of the transport mix – a form of transport that's safe and easy to use, convenient, whilst also being clean and sustainable. This is why it was very encouraging last week to see the Government publish the legal framework for shared e-scooter trials in the UK.
In the wake of the Government's announcement, councils across the country are now considering whether shared e-scooters are the right solution for their towns or cities. However, some of the previous shared bike schemes in the UK have left lasting concerns over issues around safety, clutter and vandalism.
To make the trials as effective as possible, local authorities in the UK would benefit from access to the lessons learned from similarly regulated environments and the right information so they can make informed choices. That's why Neuron has put together a 'how to' guide, for any local authority currently looking at e-scooters, based on our experiences in Australia and New Zealand – two of the most highly regulated markets in the world.
Safety is obviously a top priority for local authorities and the safety record of a prospective operator, as well as their safety practices, should be a key consideration for those considering a trial. A big debate at the moment is whether safety helmets should be made compulsory. Whilst for now they are optional in the UK, best practice from elsewhere shows that a helmet should be available on every e-scooter. Safety-conscious riders deserve the choice to wear one even if they are not required by law. Similar discussions took place in New Zealand where it is also optional to wear helmets, however overwhelmingly Kiwi councils advise riders to use them.
In Australia helmets are required by law, and until recently there was a problem of helmet theft, helmet litter, and ultimately helmet availability all of which caused a major irritation. Unexpected problems such as this will often arise, but councils and operators who work together closely can find innovative solutions. For example, after discussions with Brisbane City Council we developed the world's first app-controlled helmet lock which secures a helmet to every e-scooter between trips, this innovation effectively solved the problems overnight.
Another common concern is how to reduce irresponsible use. Here innovative operators can offer councils more control than ever before, using tech to dictate where, when and how fast shared e-scooters can go. Through geofencing and GPS technology, councils can work with e-scooter providers to map and enforce the area e-scooters can be used and designate 'slow zones', 'no go zones' and 'no parking zones' wherever they choose. This has been very popular with councils in Australia and New Zealand as they have a greater oversight and are more in-charge of their e-scooter programmes compared to previous waves of shared vehicle services.
More recently, the number one concern from local authorities has been the Covid-19 pandemic. At the outset of the crisis many operators chose to take their scooters off the street. But in Australia and New Zealand, we found that by working in partnership, e-scooter providers could continue to operate in a way that wasn't just safe but genuinely beneficial to the fight against the virus. We gave away thousands of free rides to key workers and stepped up cleaning of our scooters with a dedicated sanitation team working around the clock to keep them germ-free. 1 in 5 of our riders during the pandemic had never used an e-scooter before but 90% now consider e-scooters an essential travel option.
Finally, we often find a lot of smaller towns and cities who simply want to know whether they are the right fit for an e-scooter sharing scheme. There's a misconception that only large cities can run viable schemes, but In Australia there have been successful trials in large cities like Brisbane to small cities like Darwin with a population of just over 100,000. Operators who have a track record implementing bespoke solutions, sharing data on what works and what doesn't, and building lasting partnerships can make schemes work in all kinds of places.
I am confident that e-scooters have a vital role in the future of travel. No two towns and cities are the same. That's why shared e-scooter providers should do everything we can to be the best possible partners and make sure councils are equipped with tools to build a local service that's right for them. We look forward to putting councils in charge of their e-scooter trials while also helping to get our towns and cities moving again.
Zachary Wang is founder and CEO of Neuron Mobility