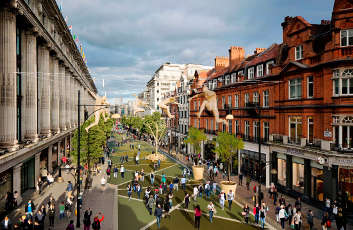 Plans to pedestrianise part of Oxford Street have been backed by a majority of the 22,000 people who responded to the latest consultation but the authorities have pledged to look at issues of safety and accessibility raised by the public.
The proposals put forward by Westminster City Council and Transport for London (TfL) involve a new traffic-free area between Orchard Street and Oxford Circus by December to coincide with the launch of Elizabeth Line (Crossrail) services.
TfL said the aspiration behind the changes is the creation of 'safe, accessible and inspiring public spaces for people of all ages to enjoy', to rival those in other world cities such as Paris and New York.
More than 22,000 responses to the second consultation on the plans were received. Of those who responded to the online consultation directly, 64% supported all or some of the plans to transform the area.Thirty-three per cent of those who responded to the online consultation did not support the plans.
TfL also received around 7,000 written responses as part of a Living Streets campaign supporting the scheme, and a further 632 written responses as part of a local campaign against the proposal.
Issues raised in the consultation include traffic and air quality on residential roads, provision of a safe cycle route through the wider area, management of the public space and ensuring that Oxford Street remains accessible for all.
TfL and Westminster City Council are now considering 'every one' of the issues raised before the council takes any further decision on how to proceed.
Cllr Daniel Astaire, Westminster cabinet member for planning and public realm, said: 'We know that people are very passionate about this iconic part of London and that is why we are clear that it has to be the right scheme that works in the best interests of those who live, work and visit the area.'
This article first appeared on Transport Network.