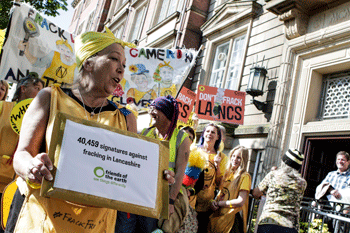 Protesters have been gathering in Preston ahead of a decision by Lancashire County Council on controversial plans for fracking.
Earlier this month planning officers recommended an application from energy firm Cuadrilla to explore for shale gas east of Blackpool at Preston New Road should be approved. A second application, for a site at Roseacre Wood, which lies halfway between Preston and Blackpool, was recommended for refusal.
Campaigners against the proposals have been making their views known at County Hall in Preston ahead of the hearings. A decision on Preston New Road will be made over the next two days.
The men, women and children of Lancashire lining the roads of Preston to say #DontFrackLancs pic.twitter.com/X67hEgKTrI

— Rachel Kennerley (@rjkennerley) June 23, 2015
Friends of the Earth's north west campaigner Furqan Naeem said: 'Fracking could have a hugely damaging impact on Lancashire residents and their environment and cause more climate-changing pollution to be pumped into the atmosphere.
'Councillors must put local communities first, follow the example of Scotland and Wales and say no to dirty fracking.
Outside County Hall in Preston, ready to hand in our joint statement from MPs: http://t.co/fNQ8iDBP0K #DontFrackLancs pic.twitter.com/cepgVJI0Vf

— Ali Abbas (@ali_mfoe) June 23, 2015
Friends of the Earth, which has been leading the protest, has received backing from campaigners in New York state, which banned fracking in December 2014 following a two-year review into the potential health risks.
Martha Robertson, a legislator from Tompkins County in the Finger Lakes area of western New York state, said: 'As elected officials, we share with Lancashire councillors a responsibility to protect our constituents, so we have written to show that it is possible to stand up to this dirty and dangerous industry and ensure residents' safety.'
Unite North West regional secretary Mick Whitley said: 'Fracking is a huge issue for communities across our region and a cause for deep concern.
'A moratorium on fracking is in place in Scotland and the Welsh assembly government is following suit such is the depth of concern in other parts of the UK.
'Here in Lancashire, county councillors need to listen to tens of thousands of people from across the county who have objected and reject all applications for fracking.'
Photo: Friends of the Earth