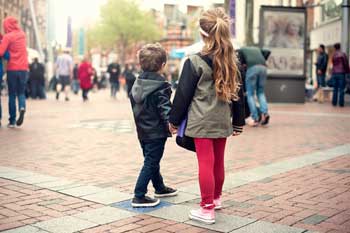 Council chiefs have called on the next Prime Minister to make tackling homelessness an urgent priority as research suggests hundreds of children face being placed into temporary accommodation this summer.
The Local Government Association (LGA) has calculated that, based on trends over the last two years, 320 homeless children in England could be placed into temporary accommodation over the next six weeks.
The number would exceed the size of an average primary school, which has 282 pupils.
'While for many children the summer holidays will be a break from school to be enjoyed with family and friends, for others they face the tragedy of becoming homeless,' said Cllr Martin Tett, the LGA's housing spokesman.
'It is not right that hundreds of children risk enduring the disruption of being placed into temporary accommodation.'
According to the latest Government figures, there are more than 124,490 children living in temporary accommodation.
The LGA says a 'severe shortage' of social rented homes available to house families forces councils into placing families in temporary accommodation, including bed and breakfasts.
This is 'financially unsustainable' for councils and disruptive for families, Cllr Tett said.
'Councils desperately want to find every family a good, quality home, but the lack of available housing is making this an almost insurmountable challenge,' he said.
'This is why we are urging the Prime Minister to make tackling homelessness a priority.
'While it was good the Government lifted the housing borrowing cap to give councils more freedom to build new homes, the new Prime Minister should take this even further and in the Spending Review give councils the tools they need to resume their historic role of building the homes the country needs.'
Councils currently face a £421m funding gap by 2025 to tackle homelessness.