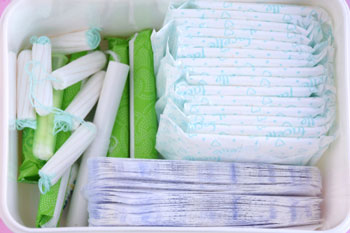 Free sanitary products will be offered to girls in all primary schools in England from early next year, the Government has announced.
In last month's Spring Statement, Whitehall committed to funding the provision of free sanitary products in secondary schools and colleges.
Today, the children and families minister Nadhim Zahawi confirmed this will be extended to all primary schools as well.
'This Government is determined to ensure that no-one should be held back from reaching their potential – and wants everyone to lead active, healthy, happy lives,' he said.
'That is why earlier this year we committed to fully-fund access to free sanitary products in all secondary schools and colleges in England.
'After speaking to parents, teachers and pupils, we are now extending this to more than 20,000 primary schools so that every young person in all our schools and colleges gets the support that they need.'
Amika George, founder of #FreePeriods, said: 'This is fantastic news, and we're so glad that the government has extended this pledge to primary schools. Period poverty should never be a barrier to education.
'With free access to menstrual products for every child in compulsory education, every student can go to school without the anxiety or stress of worrying where their next pad or tampon will come from.
'This commitment will ensure that all children can fully participate in lessons and focus in class, and their period will never hold them back.'