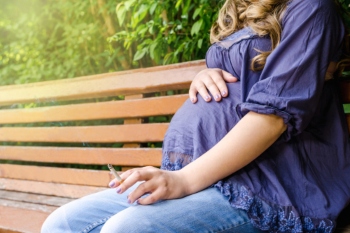 Pregnant women could be offered up to £400 in shopping vouchers to encourage them to quit smoking under new guidelines published today.
The draft guideline published by NICE and Public Health England shows that a 'financial incentive' is an effective way to get pregnant women to stop smoking.
Research shows for every 1,000 pregnant women offered vouchers, an additional 177 mothers would stop smoking.
It warns that women would need to prove they have stopped smoking through a biochemical test, and vouchers would not be able to purchase products that are harmful in pregnancy such as cigarettes or alcohol.
Dr Paul Chrisp, director of NICE'S Centre for Guidelines, said: 'Smoking continues to take a huge toll on the health of the nation and accounts for approximately half the difference in life expectancy between the richest and poorest in society. It is therefore vitally important that we reduce the level of smoking in this country.
'We know that around 10% of women are known to be smokers at the time of giving birth and, given the significant health effects of smoking on both mothers and babies, it is clear that further efforts are required to encourage this group to give up smoking.'
The guidelines also set out how healthcare staff should give clear and up-to-date information on e-cigarettes to people who are interested in using them to stop smoking.
However it also recommends further research into both short and long-term health effects from e-cigarettes.
Deborah Arnott, chief executive of ASH said: 'With support and encouragement from health professionals more smokers would use an e-cigarette to help them stop, increasing the overall number who successfully quit long-term. This would be another step forward to securing the Government ambition for England to be Smokefree by 2030.'