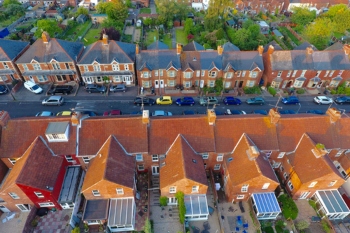 Community regeneration will play an instrumental role in supporting the UK's long-term growth. For months, we've heard the government push the role of construction in driving the economic recovery and, while the positioning may not be universally popular, funding to support those efforts, such as the government's Towns and Levelling-Up Funds, is arriving with encouraging consistency. We now collectively have the opportunity to think smarter when it comes to our built assets and the society they enable.
How to use this support effectively and direct it to areas with the most impact is now among the most pressing of issues for local authorities.
To help channel this investment, a holistic approach is needed that will make our towns and cities better places to live, work and play. Building thriving communities means better use of assets that embrace digital solutions, net zero construction and areas like active travel to support the health and wellbeing of their residents. Local authorities – along with the support of experienced consultants with knowledge of best-practice approaches – will need to identify and piece together the individual elements that can lead to meaningful and sustainable regeneration.
Key considerations
Considering how space and the built environment is used by the public is the key to sustainability in all its forms. What type of use will be future-proof in the decades to come? Can multiple uses be incorporated, spanning commercial, residential and public realm? These are the considerations that underpin vibrant communities and attract inward investment.
Active travel and transport also need to be considered to create viable, cohesive communities. Enabling easier journeys by means like walking or cycling is integral to a more sustainable future, but also to ensuring local economic centres thrive at a time when the public understands the socio-economic benefits of staying local better than ever before. Movement needs to be prioritised with any place shaping strategy to help unlock and connect spaces, while also factoring in external connectivity – whether by road, rail or otherwise.
The third key consideration for regeneration and masterplanning in 2022 and beyond is true sustainability.
The vast majority of local authorities in the UK have declared a climate emergency, meaning that setting out net zero goals and achieving them is among their top priorities.
Forty per cent of the world's carbon emissions come from the built environment and the scale of the public sector estate means it will play a central role in the race to net zero. As a result, we're already seeing local authorities successfully adapting their place shaping strategies to consider carbon first.
Indeed, assessing the whole-life carbon impact of new build or retrofit projects is crucial. SCAPE and our delivery partners in industry are lobbying Government for this criteria to become a mandatory part of any public sector procurement – advocating that carbon reduction should be prioritised over cost.
When it comes to delivering high quality and sustainable construction, a true assessment of the value gained from a project requires that the 'whole life cost' of the building must be considered.
In operation, buildings designed on net zero principles will require less investment in energy bills and maintenance while encouraging greener behaviours among occupants. The reality is that CAPEX and OPEX exist as distant relatives in the world of public procurement, but finding a way to unite them is critical if we are to truly build back greener.
Social value
All of this contributes to the socioeconomic value that public sector regeneration can create – including the very tangible impact of employing local supply chains, developing skills and engaging positively with local communities to leave a lasting legacy.
This is the epitome of effective placemaking – uniting multiple elements, issues and objectives under one holistic strategy. It is crucial to understand the assets and their capabilities early with digital intervention capable of driving results.
The funding to support projects like these has been made available for a reason: central Government knows that money dedicated to regeneration has far-reaching benefits. Towns and cities that have been given a new lease of life through built environment projects create thriving, bustling neighbourhoods, which improve living standards and boost local businesses.
This virtuous circle of positive benefits is what true urban regeneration looks like.
Getting a placemaking strategy right – and then putting it into action – requires extensive collaboration across a range of disciplines and expertise from within the construction industry's consultancy base. By making these decisions consciously at planning and procurement stage, we can ensure that the uptick in local regeneration creates stronger, more cohesive communities in the post-Covid era.
Mike Salter is group development director at SCAPE