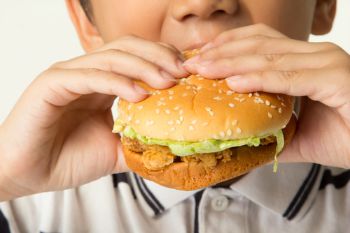 The most deprived areas in England have five times more fast food outlets than more affluent communities, new figures have revealed.
The data from Public Health England also found fast food outlets account for more than a quarter (26%) of all eateries in England.
Dr Alison Tedstone, chief nutritionist at Public Health England, said: 'It's not surprising some children find it difficult to resist the lure of fast food outlets when many neighbourhoods are saturated with them.
'Local authorities have the power to help shape our environment and support people in making healthier choices. They need to question whether these fast food hotspots are compatible with their work to help families and young children live healthier lives.
At least 40 areas have developed policies to restrict the growth of new takeaways and fast food outlets, such as limiting the number of fast food outlets near schools or parks.
Cllr Izzi Seccombe, chairman of the Local Government Association's Community Wellbeing Board, said: 'Numerous councils have set curbs on new fast food outlets but current legislation means they lack planning powers to tackle the clustering of existing takeaways already open.
'New legislation is needed to empower councils to help drive forward an effective redesign of damaging food environments to help address health inequalities and tackle the obesity crisis, which requires a joined-up approach.'