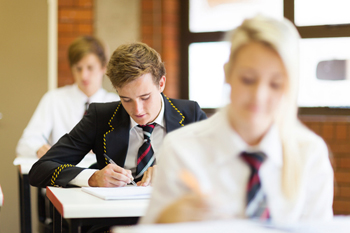 Progress made by poor pupils in primary school is 'all but wiped out' at the secondary level, new research into social mobility reveals.
A recently released study by the Social Mobility Commission has discovered that even when bright pupils from low-income families outperform their more advantaged peers at primary school, they are likely to be overtaken at the next stage of their education.
The report, based on research conducted by LKMco and Education Datalab using data from the National Pupil Database, warns the secondary school drop off means that poor children are failing to finish school with the qualifications that will create opportunities for them to succeed in life.
According to the new findings, the gap in progress stems mostly (88%) from differences in achievement between children at the same school, rather than variations between schools.
The report argued this is partly due to the treatment of children on free school meals who are placed in lower sets, have less access to qualified teachers and have lower expectations set for them.
A more difficult home life, behavioural issues and exclusion also impact outcomes for children from lower-income backgrounds, according to the research.
The Social Mobility Commission also revealed that poor pupils in cities do better relative to their affluent peers than their counterparts in rural areas.
It also found ethnic minority pupils make better progress at secondary schools than poor white children. The report suggested that low-income ethnic minority parents provide support that is more effective for their children at home.
Lower funding was putting pupils progress at risk, according to head teachers interviewed for the research. They also warned the prospects for improvement were bleak despite the new funding formula proposed by the Government.
'One of the shocking features of our education system is that the gap between poor pupils and their better-off peers increases during their time in school rather than reducing,' said commission chair Alan Milburn.
'This new research suggests that the progress poor pupils make in primary school is all but wiped out during secondary.'
'The consequence is that successive generations of poor children are being let down by a school system that is supposed to be there to help them move up and get on,' he continued.
'This is not just an issue for the government. If social mobility is to improve, schools need to do more to bridge the education attainment divide between poorer children and their better-off classmates.
'Closing the gap needs to be top of mind for every teacher in every school.
'The government can help by setting an explicit target for narrowing the attainment gap at CGSE and by doing more to get the best teachers into the toughest secondary schools.'