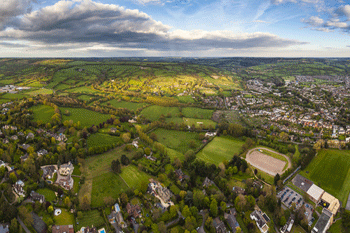 Three-quarters of the British public support the creation of new garden cities, with the over-65s showing the strongest backing, a new poll reveals.
The poll, commissioned by the Wolfson Economics Prize, shows that three out of four people belive garden cities are the best way of tackling the housing shortage. Support for the initiative, which the Government hopes will provide more than 200,000 new homes, is also strongest amongst older people, homeowners, and Tory and UKIP voters.
The poll also revealed that public support for garden cities remains steady in rural areas, with 68% of respondents saying garden cities are more likely to protect the countryside from development than the alternatives for delivering the housing we need.
Simon Wolfson, founder of the Wolfson Economics Prize, said: 'This is a very encouraging poll. It demonstrates how popular garden cities would be as a solution to Britain's mounting housing crisis.
'It is particularly interesting that older generations, more than others, support the building of new homes with gardens. Naturally, they aspire for their children and grandchildren to live in the quality of homes they themselves have enjoyed.'
The poll of 6,000 people also found that council tax discounts or reduced energy bills would make people more likely to support a new garden city in their area.
Miles Gibson, Prize Director, added: 'The poll also shows that, when people are asked individually how they would react, distaste for better and more direct compensation for the costs imposed by new development is much less evident than might be thought.'
The Government has pledged to build up to three new garden cities holding at least 15,000 homes.