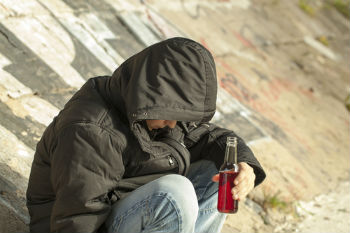 High strength alcohol sold at 'rock bottom' prices is putting children and harmful drinkers at risk, health experts are warning today.
The Alcohol Health Alliance UK (AHA) said cuts to alcohol taxes have allowed retailers to sell high strength white ciders for as little as 16p per unit.
This means that for the price of an off-peak cinema ticket, someone could buy nearly seven and a half litres of high strength white cider.
Chair of the AHA, Professor Sir Ian Gilmore, said: 'In spite of a government commitment to tackle cheap, high-strength alcohol, these products are still available at pocket money prices. Harmful drinkers and children are still choosing the cheapest products: predominantly white cider and cheap vodka.
'We need to make excessively cheap alcohol less affordable through the tax system, including an increase in cider duty. It's not right that high strength white cider is taxed at a third of the rate for strong beer.'
The AHA is also calling for minimum unit pricing to help reduce cheap high strength products and protect pub revenue.