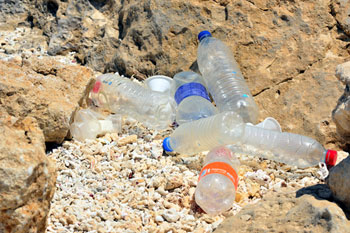 A county-wide ban on sales of bottled water at council premises will today be debated by a local authority.
Monmouthshire County Council in south east Wales will this afternoon discuss whether to examine cutting down on sales of single-use plastic bottles following concerns over their environmental impact.
The council could become the UK's first to introduce such action if the measures are pushed through.
Labour councillor Dimitri Batrouni submitted a motion calling on the town hall to 'explore sensible and practical measures to discourage or prohibit the sale of single-use plastic water bottles in council owned buildings'.
He told the BBC that 'all sorts of rubbish, especially plastic bottles' could be seen at local beaches, rivers and streams.
'We know they do great harm and the Labour group believes the council should make a principled stand and encourage the use of re-useable containers,' Bartouni added.