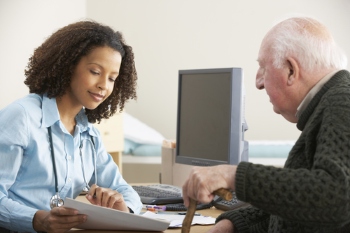 Omicron, the emergency care crisis and staff shortages could derail the Government's plans to tackle the backlog of elective care cases, MPs have warned.
A new report from the Health and Social Care Committee has warned that the effort to clear the record backlog of 5.8 million elective cases caused by the pandemic is under threat by the spread of Omicron.
Plans to reduce waiting lists are also being undermined by a record number of 999 calls and the fact that waiting times in emergency departments are at record levels.
The Report concludes that tackling the wider backlog caused by the pandemic is a major and 'unquantifiable' challenge. It calls for a broad national health and care recovery plan to include mental health, primary care, community care, and social care as well as emergency care.
The committee also called for better workforce planning and criticised the Government for resisting changes to the Health and Care Bill that would have required publication of an independent assessment of workforce numbers at least once every two years.
'The NHS faces an unquantifiable challenge in tackling a backlog of cases caused by the pandemic, with 5.8 million patients waiting for planned care and estimates that the figure could double by 2025,' said Health and Social Care Committee chair Jeremy Hunt MP.
'However, our report finds that the Government's recovery plans risk being thrown off course by an entirely predictable staffing crisis. The current wave of Omicron is exacerbating the problem, but we already had a serious staffing crisis, with a burnt-out workforce, 93,000 NHS vacancies and no sign of any plan to address this.??
'Far from tackling the backlog, the NHS will be able to deliver little more than day to day firefighting unless the Government wakes up to the scale of the staffing crisis facing the NHS, and urgently develops a long-term plan to fix the issue.'
A Department of Health and Social Care spokesperson said: 'The pandemic has put enormous pressures on the NHS but we are committed to supporting hardworking staff to ensure people get the treatment they need.
'We have provided an additional £5.9bn to help tackle the backlogs and we are investing £36bn over three years which will help deliver an extra 9 million checks, scans and operations for patients.
'We have over 5,100 doctors and nearly 10,000 more nurses in the NHS compared to last year and we're committed to delivering 50,000 more nurses by the end of this Parliament.'